ABOUT
A cuddly Labrador mix, a creative Hamburger of choice - and a great idea for all furry friends. This is Lieblingspfote 2015. The mission is clear: design the perfect leash and a matching collar for every dog ​​- according to individual wishes and made from stylish and super-robust materials. Since then, founder Melanie has proven how well a timeless, stylish look and high quality go together. With its own online shop, a manufactory and concept stores, Lieblingspfote now stands for high-quality dog ​​accessories, sustainable accessories and customizable leashes and collars in a timeless design - made in Hamburg. The snazzy linen sets, trendy brands for two- and four-legged friends as well as stylish walkies' wear have become an integral part of the dog scene. Ready to become part of the GASSI CREW?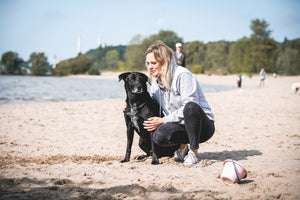 I'm behind Favorite Paw, Melanie Grote, born 1983, from Hamburg. I've lived here since 2010, always by my side, my 10-year-old Labrador mixed breed male Max.
I came up with the idea of founding Favorite Paw in the summer of 2015 through another friend of mine. She had a very simple self-made rope with her that her boyfriend had made and, to be honest, I had never seen it before, and zack I was full of ideas and did a lot of research on how this could work and which material and rope is the best.
Since I love to be creative and can totally let out myself here, of course it's just perfect for me and I can bring great joy to others. Every favorite paw piece is sewn and made by hand with a lot of love.
I officially made what started as a hobby in September 2016. I registered my favorite paw as a brand, created a logo and designed my own label labels. We have been growing steadily since then. A small hobby has turned into a big challenge that I really enjoy! I am always delighted about every feedback from my customers and pictures of their fur noses. It's so great to make other people and dogs happy.
You and your furry friend will also become part of the favorite paw family.
With us you can have your individual combination of rope and winding layer made according to your wishes. You have the choice of many different colors and types of baptism, and thanks to the fittings in stainless steel and brass, the leashes and collars of Favorite Paw are rust-free and ideally suited for any bad weather.
As a piece of jewelry on top of it a noble name leather or an individual handmade dog tag with name and telephone number. You are spoiled for choice! :)
I lovingly handcraft every single part. All pieces are made with love and heart, and each piece is unique.
I am happy about every favorite paw leash and neck that I am allowed to make and I am looking forward to many more beautiful ideas from you!
We look forward to you!
Melanie & Max